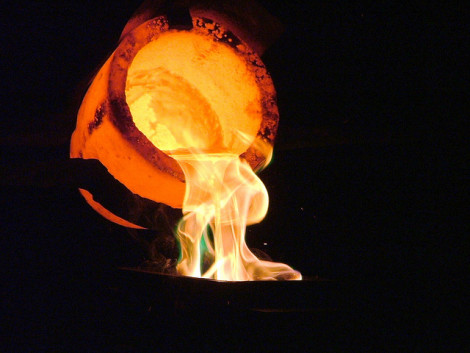 Fire is the test of gold; adversity, of strong men.
–Martha Graham
As I was thinking back yesterday (US Thanksgiving Day) on all the things to be thankful for this year (and there are many), I also have been thinking about the various struggles this year also (and there have been quite a few of those, as well).
And I found myself, perhaps oddly, being grateful for the various challenges that have presented themselves this year. Not for the hardships themselves, exactly (those were not fun), but for the opportunity those challenges presented. And for the positive changes I've seen in myself as a result of facing those challenges.
Crucible Moments: The Test of Fire
In my story work, when creating back-stories for fictional characters (or when helping a "real, live person" work through the meaning in their own life story) I often talk about crucible moments—a pivotal moment in a story that causes a dramatic change for the character at the core of who they are (and which helps us understand all the reasons they do what they do throughout the story).
I call it the crucible moment because it's a test of fire, a test of the mettle of the person. A test of endurance, perhaps, in which the fire is resisted, and one comes out purified—one's true nature is distilled. Or a test that creates a profound change in the natural state of the character, one from which they cannot go back.
(The idea of the crucible moment has some commonality with the monomyth, or hero's journey—in fact, the whole second act of that model, "Initiation," could be seen as the crucible. The center of this initiation act is variously known as "atonement with the father," "the ordeal," and "the innermost cave"—the ultimate test of the hero's character, which changes him or her in a way that makes completion of the quest possible.)
We all have crucible moments in our lives, though we may not recognize them as such until much later, when we've had a chance to gain some distance from them, and develop some perspective on what happened—and what changes in us resulted from those challenges.
After the Fire
I encourage us (all of us, for we are all facing our own hero's journey, whether we know it by that name or not) to take the opportunity to look back upon our own crucible moments, and see the ways they have shaped us. And, with some emotional distance and perspective, to be grateful for the opportunities they have given us, to make hard choices that have shaped us, tempered us, purified us into the better human beings we are today.
Next Steps
If you're in the midst of your own crucible moment right now—some struggle that's testing you—here are some thoughts that might help:
• Setbacks, Struggles, and How to Cope Like a Hero
• Even Heroes Get the Blues: 7 Steps for Regaining Your Positive Mojo
• How to Get Your Brave Up
• Learning to Receive, With Humility and Grace
• The Power of Dreams and Believing in Yourself
If you're on the other side of a crucible moment, then maybe it's time to rest up, to celebrate, and to be grateful that you've survived your ordeal, and are a better, stronger person for it.
And if you would, please take a moment to share a bit about your crucible moment in the comments—a hardship you're facing now, or a triumphant overcoming of a recent challenge.
And if you'd like some additional resources and encouragement to help you through your own crucible moments, on the way to becoming the hero you were meant to be, be sure to subscribe by entering your email in the box in the sidebar to your right. You'll get your own copy of the Be Your Own Hero manifesto, regular updates from the blog, and other subscriber-only tools and goodies.
[Photo courtesy of Dan Brown (cc)]