I'm really excited to announce the publication of my first ebook, a manifesto called Be Your Own Hero.
About the Manifesto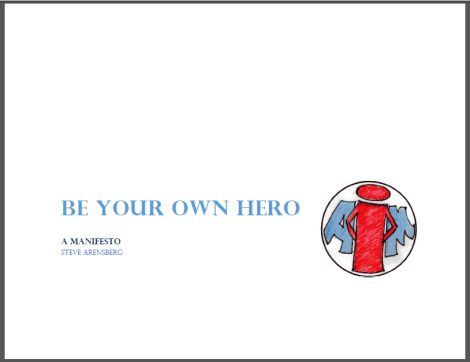 The manifesto pulls together a lot of the ideas I've been building here at the Free of Gravity blog, synthesizing them into a thesis on how and why we should make the choice and take action to be our own heroes.
How to Get a Copy
You can get a copy of the manifesto by subscribing to my email list (signup form below and on the right of this page). This will automatically subscribe you to blog updates and other subscriber-only goodies (other books and tools and such). Once you confirm your email address, you'll receive a link to the PDF of the manifesto so you can download it.
After You Read It
If you've already read Be Your Own Hero, please accept my thanks! I'm so honored you took time to read it. I'd love to hear what you think about it.
So please share your comments and feedback below. And if you liked it and felt it made a difference for you, you're welcome to (and encouraged to!) share Be Your Own Hero with others who might benefit from it as well.
You can use the buttons on this page to share on Twitter, Facebook, or via email.
Be Your Own Hero
My hope is that the manifesto will inspire you—to embrace your own heroic self and take action to change the world for the better. I'd love to hear what action(s) you've taken to bust out of your own gravity and start making a difference!
Get Your Copy Now
Just enter your information, and I'll get a PDF right to your inbox!