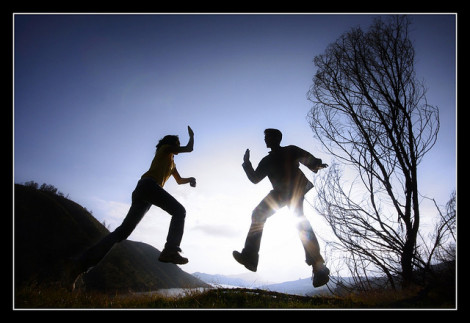 image courtesy of ram reddy (cc)
When you finish some significant task, or complete a major project, what do you do?
If you're like I was a couple months ago, stopping to celebrate your accomplishment is the last thing on your mind.
I'd just finished a major project and released it. It had been the culmination of a lot of work, and I was really proud of the results. So what did I do?
I turned right to the next thing on my to-do list, and started in on that.
It wasn't until later that I was talking to a friend about it.
"So what are you doing to celebrate?" he asked.
"Nothing."
"Really?"
"I've got lots of other work to do. So I just started on the next thing on my list."
Silence. I could almost see the disappointment on his face right through the phone.
Evidently that was the wrong answer.
Can't Stop
Perhaps you're like me, and you feel like your to-do list is so long that you just can't stop. When you finish one thing you just move to the next, because to do otherwise will put you behind.
I felt that way for a long time. Until I realized (with some help from my wife and my friends) a couple of obvious things:
My to-do list is never going to be empty. So charging forward believing that I'll get to some mythical point in my future that I can finally "be done" and THEN I can celebrate—that's futile, and well, rather stupid.
That not taking time to celebrate my successes just keeps me in the "grind." The only reward for completing something is I get to start on the next thing. I don't stop to enjoy the things I've accomplished, or what benefits they've brought to me or to others.
So if you're like me, and you're just jumping from task to task and project to project without pause, you're missing an opportunity. (Actually several, which I'll get to in the next section.) Sure, you get the little dopamine hit when you check the task or project off your list, but if you jump right back in, looking at the next five or ten or twenty things on that list, it's easy to lose that feeling of accomplishment and replace it with even more overwhelm.
What Celebration Does for Us
Celebrate what you want to see more of. –Tom Peters
So instead of jumping back into the work right away, I'm encouraging you to find ways to celebrate your accomplishments. I'll give you some suggestions on how to do that in the next section, but here are the reasons why you should take some time to celebrate.
Celebrating serves as a well-deserved pause from our focused labors. If we just finished running a marathon, we wouldn't start training that same afternoon, would we? We'd allow ourselves a chance to socialize with our fellow runners, and to help our minds and bodies recover from the work they performed getting us over the finish line. The same is true of our to-do lists. For larger tasks or full-on projects, it's important to have that time of rest to recover.
Celebrating builds energy and momentum. I used to think that if I stopped what I was doing, if I paused for a bit while in the middle of a task, I'd lose my momentum and not get it back. And while that may be true of succumbing to intermittent distractions like email or web-surfing, the act of celebrating, after a significant milestone, can actually boost your focus, your energy, and your creativity. Celebrating allows you to return to your work rejuvenated, and in a more creative state than if you continue to work through your fatigue.
Celebrating can make us happier and more positive. Celebrating small wins throughout the day can help us create and maintain a positive outlook on life. According to Barbara Fredrickson, PhD, all of us have a "positivity ratio"—how we characterize experiences in our daily lives as positive or negative—and she says the idea ratio for being resilient, and thriving, is a three-to-one ratio of positive to negative. Because our brains are wired to notice negative occurrences more easily (a survival mechanism), we sometimes have to work harder to notice those positive occurrences in our lives. Celebrating the small things each day can help tip the scales toward positive thoughts.
Celebrating increases our resilience to failure. Cataloging a series of wins can help us bounce back when things don't go our way. The positivity ratio applies here as well: marking even small stuff in the "Wins" column makes those few "Losses" easier to deal with, since they don't make up the entirety of our emotional life for that day.
Four Techniques for Celebrating Your Personal Successes
You can achieve all the things you want to do, but it's much better to do it with loved ones around you; family and friends, people that you care about that can help you on the way and can celebrate you, and you can enjoy the journey. –John Lasseter
If you don't have much practice celebrating your successes, small and large, every day, here are several tips for incorporating more celebration into your regular routine.
Put "Celebrate" on your to-do list or project plan. Writing it here, where you'll see it before you're tempted just to jump into the next task, will help you remember to do it. Bonus: you get to check this task off your list as well = free dopamine!
Create a "celebrating success" ritual. Rituals can have tremendous power to change our perspectives. (Here's an interesting post on how simple rituals changed people's perceptions of food.) Your ritual could be as simple as adopting a power pose (the finish line pose is a particular favorite); to playing a particular, inspiring piece of music; to making a list of "Wins" on your white board and adding to it as you celebrate each accomplishment. Choose a specific set of physical routines that you'll do each time you celebrate, to create a ritual that best helps you feel that burst of pride and satisfaction.
Share your successes with others. Take time to share your accomplishments with your friends and colleagues and others. We know how receiving that "good job" or "attaboy" reinforces the positive feelings associated with an accomplishment. It's even better if you do this sort of thing in person (a high-five feels MUCH better than a Like on Facebook). This is a great reason to find and cultivate a local group of like-minded folks—your own League of Extraordinary Heroes—to share and support and celebrate each other's accomplishments. (If you don't have a group already, check out Live Your Legend Local, a world-spanning movement of people helping each other find and do work that matters.) 
Acknowledge the help of others in your success. When you're announcing and celebrating your win, acknowledge those people who helped you get there. You know who they are. Whether they shared a great conversation over coffee that sparked your new idea, or offered "late-night phone consulting services" as you wrestled with your latest effort, or they brought dinner to your home office every evening for a week (thanks, honey!) while you plugged away at your latest creation… celebrate them, what they mean to you, and how they made such a difference in your life. You couldn't have done it without them. Celebrating others not only cements those bonds of friendship and family, it also allows those others to share in the same boost of confidence and accomplishment that you're feeling (yay, serotonin!).
Whichever techniques you choose, take some time and effort to build some celebration time into your schedule. Try it out for a few weeks, and see what sort of changes it makes in your productivity, your emotional resilience, and your overall happiness.
My calling, as one imperfect human, is to celebrate and uphold life every time I get the chance. –Victoria Moran
I'd love to hear about your successes in incorporating celebration into your daily routine (Technique #3!) or other celebration techniques you've used. Please leave a comment!
If one of your celebrations for yourself is to read more Free of Gravity (I hope it is!), be sure to subscribe to the blog by entering your email in the box in the sidebar to your right. You'll get regular updates from the blog, news on when the manifesto will be available, and other subscriber-only tools and goodies.