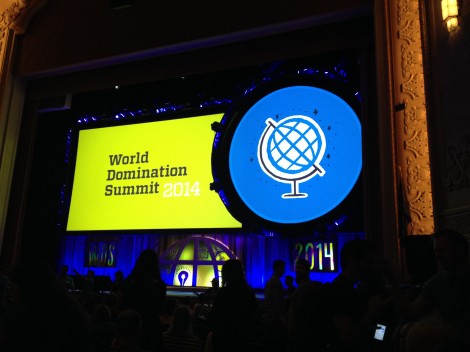 World Domination Summit. Sounds like a convention for super-villains (except they'd never have a convention together…). But instead, WDS a gathering of heroes from around the globe, who converged on Portland, Oregon this July (and the three previous Julys), to connect, to learn, to be inspired, and to grow beyond themselves and into people with the power to change the world.
I spent last weekend in the company of these incredible people, and I can say that they are, universally, warm, helpful, excited, motivated, uplifting, and soul-shaking. From the first moment, we were talking like we were old friends reuniting, even though we hadn't met yet. Scott Dinsmore has said often "Think of strangers as friends you haven't met yet." With my fellow WDSers, I can say that I truly felt that. I'm so grateful for the new friends I met (or met in person for the first time).
I felt, in a powerful way I haven't in a long time, the sense of community that is one of the founding values of WDS. And along with my new friends, I was blessed with other powerful experiences aligned to the two other WDS values: adventure and service.
I did not realize it before, but now I see WDS as a "ready room" for heroes. Heroism is built on a foundation of bravery, empathy, and service. Being a hero is being brave enough to stand up and do what's right, and to show others what's possible when we act in alignment with our beliefs and in service to the world. Being a hero is being empathic enough to feel what others feel, to sense their needs, and to feel a responsibility to act on those feelings. And being a hero is being of service to others, not for personal gain or recognition, but because the act of service allows the other person the freedom to become their best self, and a hero in their own right.
The WDS values of community, adventure and service are all about heroism. From Community, we connect emotionally to others who are like us and share our values, and through that connection we become better versions of ourselves. From Adventure we learn about possibility, and action, and openness. From Service we learn to think beyond ourselves, our fears, our limitations, and do what's necessary because it matters to the other person.
Throughout the weekend, I experienced each of these themes, these values, interwoven in everything we did together. From breaking a world record to meeting a new friend in the registration line to singing "We Are Family" with 3,000 of my newfound "cousins" (thanks, AJ Jacobs) to doing improvisational co-creating thanks to Gary Hirsch, to crying right alongside the recipients of the WDS Foundation prizes, to proudly wearing my blanket/superhero cape for the whole of the closing party (and seeing many others doing the same!)—all of these experiences changed me.
I feel like a superhero myself. Like Peter Parker bitten by that radioactive spider, like Bruce Banner blasted with those gamma rays, like Steve Rogers infused with Super Soldier Serum—I feel full of power and purpose and, most significantly, a sense of responsibility to take back what I've learned and share it (here and with everyone I meet) and to serve as an example of what's possible.
So in accepting that responsibility, I'm sharing today four (of many) powers I gained during my transformational time at WDS.
The Power of Community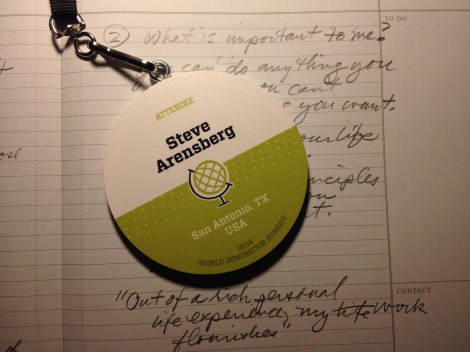 Far and away the most powerful change for me was, as Scott Dinsmore put it, "Finding 'my' people." I couldn't agree more.
I've never been a "joiner". I'm not big on groups (introvert). As I stood with the crowd in Pioneer Courthouse Square watching the World Cup Finals, I could see and understand intellectually the sense of community the fans felt (and any group of committed fans feel for their favorite team), but I just didn't feel it myself.
But at WDS that changed. I was proud to wear my WDS badge everywhere, and excited to see others doing the same. We were connected, instantly and powerfully. We were friends that hadn't met yet.
But it wasn't just the friendliness. It was that sense of deep caring I got from each person I met, that sense of deep interest everyone expressed in what I was building, why I was at WDS. They were excited for me! (How different than most people you meet in the "real world"—exhausted, preoccupied, stressed out zombies struggling just to make it through the week…) And I was as interested and excited to know about their projects, their passions, the things they were doing to change the world.
Because that was the common theme: we are all people who want to make a difference in the world, to change it for the better, by doing the great work we were put on the planet to do.
And it didn't matter where we were on the journey either. If we were taking baby steps like starting a blog, or volunteering on the weekends, or creating something for the first time, we were in the right place. And if we'd built powerful businesses or ran non-profits or climbed mountains, we were in the right place.
What an amazing feeling, to be in the right place at the right time, for once! And all I could think was "How can I keep feeling this way?"
What I learned: Keep finding and connecting with "our people" and find ways to bring that community together in the real world. WDS taught me that there's power in numbers and the energy of shared beliefs and shared space. I'm lucky enough to have found a great group in my city's chapter of Live Your Legend Local, a group of great folks looking to change the world by doing work they love. Live Your Legend has local meetups in cities all over the world—there's probably one near you. And meetups.com has local listings of all kinds of other groups that might be of interest to you. If you can't find a group that fits? Start one!
What I also learned: Display the badge of your community proudly. It will make it so much easier for your people recognize you when they meet you!
The Power of Possibility

(photo courtesy of Armosa Studios)
Friday morning, I joined 807 other people on yoga mats in the center of Portland's Courthouse Square for the Great Namaste: what would be, when we were done, the world-record-holding longest yoga chain.
Several hours in the hot sun. Doing yoga for the first time ever (thank God for simple poses). Surrounded by strangers (who'd become friends). And, through the power of just showing up, breaking a world record.
I've never broken a world record before—I hadn't ever even considered that I might be able to do it. But I realized that my thinking was limited, because I was only thinking of how I might break a world record on my own, by myself, alone. Without the other 807 participants and the maybe another 100 organizers and helpers who had my back.
What I learned: We don't do anything alone. All of the greatest things we will do will be in collaboration with others and with their help. All the great work we do is built upon what's come before: those who've guided us, influenced us, experienced with us, and helped us along the way.
What I also learned: Anything is possible for a group of individuals with vision and commitment to see it through together. I experienced first-hand the power and possibility of Margaret Mead's quote, "Never doubt that a small group of thoughtful, committed citizens can change the world. Indeed, it is the only thing that ever has."
What I also learned: We represent the power of possibility to others. It is the sacred responsibility of those of us who have experienced the power of possibility in our lives to be the beacon of possibility to others.
The Power of Bravery and Taking Action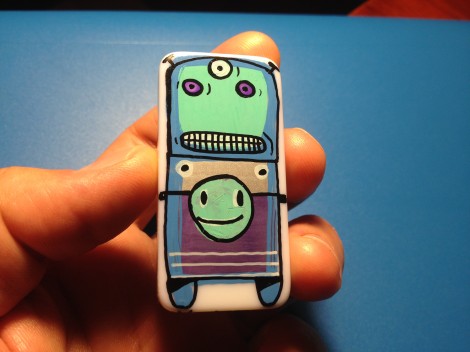 Many of the main stage speakers expressed, in their own way, a simple truth that I've learned the hard way is so important.
"Take imperfect action." (Jadah Sellner)
"Become an expert at the attempt." (Elise Blaha Cripe)
"How I measure success is how I show up." (Dee Williams)
"What single brave decision do I need to make today? (Michael Hyatt)
"What's one brave thing you've done? What's one brave thing you want to do, but haven't?" (Gary Hirsch)
As the kind of person who spent WAY too much time in his own head, analyzing, planning, preparing—trying to get whatever thing I was doing to be just PERFECT before I put it out into the world, out of fear of failure or rejection or ridicule or whatever—learning to just do my best in the moment, take any action however imperfect, and "ship" has been incredibly difficult.
But as I've done it more and more, as I've written these posts, written stories, as I've created and shipped, as I've spoken in front of groups and shared very personal things, I've learned that I can do it, even when I don't know what the outcome will be. Does the uncertainty get easier? Not really. But my ability to deal with it, and to "feel the fear and do it anyway" is a power I'm learning, however slowly, to control.
What I've learned: I've learned that all the planning and preparation in the world doesn't protect you from failure. When it stops you from putting your greatness out into the world, it instead protects you from exposure, from being vulnerable (that is, brave). It keeps you from being heroic and sharing your powers with the world.
What I've also learned: Like the others, the power of bravery in action is only mastered through use, through practice. So get out of your head. Get out of your own way. Take that next imperfect action in pursuit of your dreams. Make stuff and become an expert at the attempt. Make a brave decision today and act on it. Set a timer for five minutes, and do the work until the bell rings. Write a "shitty first draft." Finish something, a bit at a time. Put that something out into the world. Then do it again.
And if you struggled today to do those things in pursuit of your dreams, try again tomorrow.
The Power of Surprise and Delight
When was the last time you were truly surprised and delighted? Like you were when you were a kid, when you received a perfect gift unexpectedly, or experienced something new and profound?
It had been a long time for me. Like that scarcity mindset that had limited my ability to dream big and believe that the impossible was possible, I found myself limited in the way I experienced delight and wonder and the joy of discovery in the world.
But Chris Guillebeau and his WDS team are magicians. In fact, one of them even has that title! (Really.) They delighted us with thoughtful, useful, memorable gifts at registration. But that was just the beginning.
The speakers surprised and delighted us with their stories, their art, their music. (My "bravebot" from Gary Hirsch sits beside me as I write this.)
And when something really delightful and surprising was about to happen on stage, Chris would get this twinkle in his eye and this smile on his lips, and he'd say something like "I wonder what's going to happen next?"
And then out came the magic.
First there were the attendee stories—people just like you or me who'd been changed by their WDS experience in previous years and brought back their stories of transformation. Wow. Every one of them. Just wow.
Then came the WDS Foundation awards: three recipients of funding for projects in service to others. We watched the videos of these recipients—who thought they were being interviewed about their projects—surprised with the news that they had won an award. Surprise and delight. And saw it again as they took the stage and received the applause and cheers of their community of 3,000. Surprise and delight.
As the main stage sessions neared their close on Sunday, Chris again took the stage. He spoke again about the power and responsibility of service. And then he said, "Just because we can't help everyone doesn't mean we shouldn't help someone."
And then Chris began to search the audience, pointing out attendees in each of the areas until he had named the four he wanted and called them to the stage.
These four had no idea that their personal testimonials in the video time capsule on Friday would lead them to the WDS main stage on Sunday, where Chris and the WDS team would present them with gifts to help them further their passion projects. Surprised and delighted. All of them on stage, and all of us watching. Surprised and delighted, that someone noticed and cared and acted in service to them. Not make the dream for them, but to lift them up so that they can achieve it themselves. Surprised and delighted and profoundly moved.
What I learned: Surprise and delight are powerful. They put us in touch with our childlike selves, and we feel—really feel—the power of human connection, in a way that some of us (I dare say, many of us), have forgotten as we "grew up." We need to find, in our day-to-day lives, more opportunities to cultivate surprise and delight for ourselves, and ways to surprise and delight others. Surprise and delight are essential to the sort of deep, transformational service our world needs more of. Thank you to Chris and the WDS team for setting that example.
What I also learned: We are more open to surprise and delight and that sense of wonder about the world when we are in tune with what "lights us up." Jonathan Fields spoke to a small group of us, and he told us how he's changed his mindset recently. Instead of asking someone "What are you building?" he asks "What lights you up?" He went on to explain that he's realized that his own priorities in his life and in his business are changing from goals and businesses and what's next, to: "Every day, I want to do things that light me up, with people that light me up, for people that light me up." If each of us can do that for ourselves, how much more energized and engaged and well-equipped are we to be in deep service—to surprise and delight—other people?
Bringing It Back Home
None of these experiences are worthwhile, none of these teachings of value, if we (I) don't put them to use. My question every day since WDS was over has been, "How can I bring this back with me? How can I sustain this energy in my regular life, in the 'real world'?"
And the answer I keep coming up with is: Represent. That is the responsibility that comes with the great power we've been given. We must represent to those who have not experienced it the values of what WDS stands for. We must keep the values and the community and the energy alive for the other 360 days of the year. We must take action, we must be brave, we must be of service, we must show that changing our own lives and doing work that matters, to us and to the world, can change that world for the better.
#WDS2014
Like this post? If you do, please consider subscribing. You'll get notifications on each post when it publishes, and you'll be eligible for the special, subscriber-only goodies I have planned for the future. I really appreciate it!