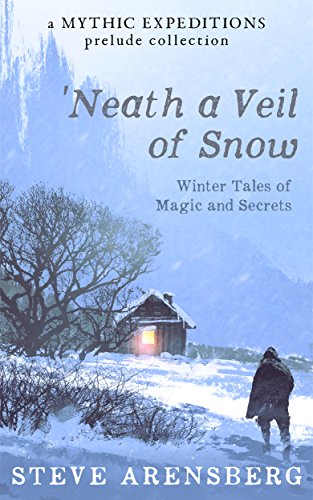 Hello Friends!
I find myself both excited and nervous to be doing the official announcement that my book of fiction, Neath a Veil of Snow, is available on Amazon.
It's an interesting thing, holding both of those feelings simultaneously… the excitement that something I've really worked for is actually being put out into the world (and not just "slipped" out there, in secret, and nobody knows about it), but actually announced to people I care about…
And because writing fiction has always been a core desire for me, it makes sending this out into the world even more scary. It brings up all the same gremlins and their chatter: What if no one likes it? What if no one even reads it? What if they reject you, laugh at you, ridicule you? What if they tell you you're not a writer, despite all of your protestations to the contrary?
But on the flip side, there's another part of me that's really proud of this work, really proud of this creation that's going to have life in the world, and (I hope) going to entertain and inspire others. To provide them, at least for a few hours, a sense of wonder and magic that's so hard to come by in this world of lies and greed, natural disasters and terrorist attacks.
And so today, I accept the risk and put my work out into the world, and hope it reaches the right hands and minds and hearts. And I encourage you to do the same, with whatever you are making. We might fail in this—and yet again, we might not…
"Success is not final; failure is not fatal: it is the courage to continue that counts." –Winston Churchill
Acknowledging and accepting the risk of shipping doesn't make it any less scary, but understanding why we make things, and why it's our responsibility to share them with the world, helps to balance the Fear against the Wonder. At least for today, Wonder gets the win.
"More wonder, please." –Elizabeth Gilbert, Big Magic
SPECIAL NOTE: For a limited time, the ebook edition is available for free on Amazon. I'd love it if you'd take this opportunity to give the book a look, and tell me which of the tales spoke to you most strongly.